2020: movies UU group
A greater story in context, and an overview in minutes. That was the idea of the Brunings lecture of 2020, based on the research of Kleinhans' group (also check the group website). Click on the circles, follow the storyline of your interest and see below for brief stories and main conclusions. The storyline texts are fully referenced to their underlying scientific publications (do email the link to Maarten Kleinhans if you can't get access). Now watch the movies (or go to our youtube channel):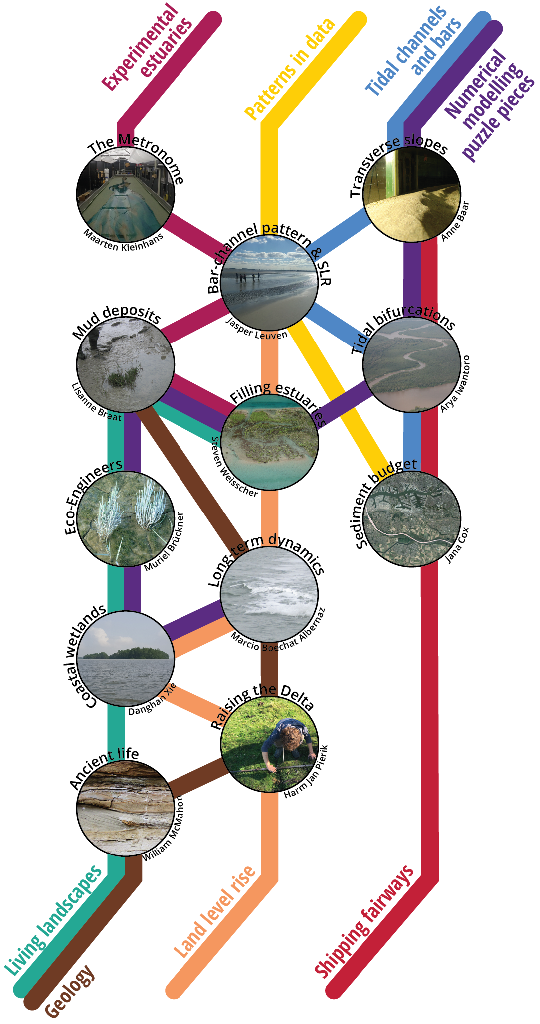 Storylines
The stories behind the lines below contain links to our publications (as far as published). A full list can be found on the website of the PI.
Program 14 January 2020 1-5 pm
13:30 Patterns in the sand: a story about bars, bends, bifurcations and mud
Break: historic map exhibition in the Library
15:00 Living waterscapes and land level rise: a story about past and future
15:45 walk to Earth Simulation Lab for drinks at the Metronome
These are the Brunings2020_lectureslides of the live presentation.